Just imagine, applying for a job flying a spacecraft and getting hired. I can't forget the excitement that I felt when I did my first paying flying job – I was an 18-year old flight instructor in a 2-seater Piper L4J (Piper J3 Cub) that cruised at 65 mph. For those who are not familiar with this airplane (maybe a large kite would be a more appropriate description), it has wooden spars for it's wings, the fuselage (body) and the wings are covered with fabric (yes, fabric like your clothes, it's not even canvass) and the propeller is made of wood.  I have lots of memories about this airplane, and I believe there are still some flying around. I will write about these in a separate post. Now it's about getting a job flying in outer space!
Anyway, here's a press release from PRLog:
PRLog (Press Release) – May 7, 2013 – MOJAVE, Calif. — Virgin Galactic, the world's first commercial spaceline, announced today that pilots Frederick "CJ" Sturckow and Michael "Sooch" Masucci have been selected to join its commercial flight team. As Virgin Galactic clears its final flight test program milestones with powered flight tests now under way, the necessary addition of new pilots will enable the company to meet the test schedule demands and prepare for subsequent commercial operations.
Sturckow, a veteran of four space shuttle missions and retired U.S. Marine Corps (USMC) Colonel, is the first NASA astronaut to be hired into Galactic's pilot corps. Masucci, a retired U.S. Air Force (USAF) Lieutenant Colonel, joins Virgin Galactic from XOJET Inc, a private airline company where he was a Citation X (CE750) Captain and Check Airman.  Masucci and Sturckow will report to Chief Pilot David Mackay and Vice President of Operations Mike Moses at Virgin Galactic's Mojave, Calif., location where they will conduct flight training and testing with Virgin Galactic's WhiteKnightTwo and SpaceShipTwo vehicles.
Sturckow has more than 26 years of military flight experience and has logged more than 1,200 hours in space. During his flight career, Sturckow logged over 6,500 flight hours, flew more than 60 different aircraft, and was chosen to attend the Navy Fighter Weapons School (TOPGUN).  Selected by NASA to join the astronaut corps in December 1994, Sturckow flew on four space shuttle missions to the International Space Station. In 2009, after 25 years of active duty service, Sturckow retired from the USMC. Sturckow went on to serve as deputy chief of NASA's Astronaut Office for the final shuttle missions, flying weather reconnaissance in the T-38 and Shuttle Training Aircraft for launch and landing.
"Viewing the Earth from space is such a unique and unforgettable experience," Sturckow said. "I'm excited to be a part of the Virgin Galactic team that is revolutionizing access to space, making this opportunity a possibility for all."
Masucci has more than 30 years of civilian and military operational and test flying experience with more than 9,000 flight hours in over 70 different airplane and glider types. A distinguished graduate of USAF pilot training in 1986, he completed USAF Test Pilot School in 1993 and went on to serve as a U-2 combat pilot in several important operations. He instructed in the F-16, T-38 and glider aircraft at the USAF Test Pilot School, while also serving as a Branch Chief.  As a U-2 test pilot he was instrumental in the development and testing of the aircraft's glass cockpit and power upgrade programs. In addition, Masucci has commanded USAF developmental and operational test units, as well as combat and training units.
"Virgin Galactic is truly a world-class organization with unique flight opportunities that you just won't find anywhere else," Masucci said. "I'm proud to be a part of this team and look forward to contributing to this revolutionary program."
"I am pleased to have these two incredibly accomplished pilots join us during this important time as we embark on a series of important rocket-powered flight tests for SpaceShipTwo, ultimately testing the vehicle in space," said Virgin Galactic President and CEO George Whitesides. "Their collective experience and outstanding performance in various demanding environments will make them invaluable assets to the Virgin Galactic team."
"Every time we hit a milestone I get so excited. We are getting one step closer to making history!," says Francis Contreras, owner of Travelworld of Coronado and one of the first Accredited Space Agents and future astronaut herself.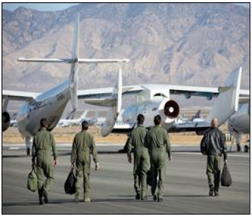 Photos:
http://www.prlog.org/12132877/1
http://www.prlog.org/12132877/2