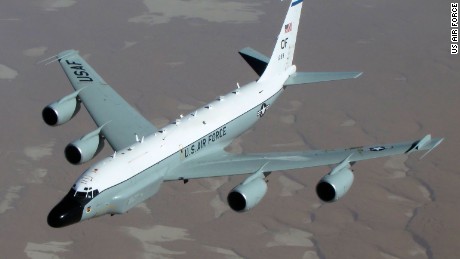 Washington (CNN)A U.S. Air Force reconnaissance plane was barrel-rolled by a Russian jet over the Baltic Sea during a routine flight in international airspace, U.S. European Command said Saturday, but Russia disputed that account.
The incident Thursday occurred when a Russian jet "performed erratic and aggressive maneuvers" as it flew within 50 feet of the U.S. aircraft's wing tip, Danny Hernandez, a spokesman for U.S. European Command, said in a response to a question from CNN.
The Russian aerial maneuvers come amid rising tensions on NATO's eastern flank.
In February, the Department of Defense announced it was spending $3.4 billion for the European Reassurance Initiative in an effort to deter Russian aggression against NATO allies following Russia's 2014 intervention in Ukraine.
In recent weeks, the U.S. has deployed additional military assets throughout Europe as part of Operation Atlantic Resolve.