For most of his 19-month tenure, United Continental Holdings Inc. Chief Executive Officer Oscar Munoz has cleaned up messes left behind by others. Now he's mopping up a PR disaster that's unfolded under his watch.
After United ordered a passenger forcibly removed from a plane in Chicago shortly before departure to make room for a United employee, Munoz's initial response made the company a punch line on social media. He said United had to "re-accommodate'' the man, who was bloodied in the encounter with security officials. In a subsequent letter to employees, the CEO called the customer "disruptive'' and "belligerent'' when he would not voluntarily relinquish his seat.
"It's sort of a self-immolation and makes you wonder about his choice as CEO," Jeffrey Sonnenfeld, senior associate dean for leadership studies at the Yale School of Management, said of Munoz's handling of the crisis. He "worked at Coke and Pepsi and AT&T, and someone would have thought he had a better customer sensitivity."
Almost 24 hours later, after global condemnation of the airline's behavior had time to sink in, Munoz struck a far more contrite tone.
QuickTake Can Airlines Really Do That? Bumping and the Law
"The truly horrific event that occurred on this flight has elicited many responses from all of us: outrage, anger, disappointment. I share all of those sentiments," Munoz said in a statement. "I deeply apologize to the customer forcibly removed and to all the customers aboard. No one should ever be mistreated this way."
'Thorough Review'
He committed the third-largest U.S. airline to "a thorough review" of its policies for handling oversold flights and vowed to report back to the public by April 30. "I promise you we will do better," he said.
Yet the damage had already been done. With a few ill-chosen words, Munoz stoked the flames of an already raging social-media firestorm and squandered goodwill he had worked hard to generate by forging a turnaround plan since joining the company in September 2015. He has overseen a 23 percent stock rally since then, compared with 13 percent for the Bloomberg U.S. Airlines Index.
Previously known for his deft touch in rescuing United from a corruption scandal, weathering a proxy fight and winning unprecedented labor peace, now he's the head of an airline that, for some passengers, has instantly become Public Enemy No. 1.
Read more: Airline bumping and the law — a QuickTake
The fallout continued Tuesday with some people saying on United's Facebook page that they would boycott the Chicago-based carrier. Others said on Twitter that they'd canceled their United-affiliated credit cards — a key revenue source for airlines.
In China, a crucial part of United's lucrative trans-Pacific network, the incident was a focus of social media and editorials in the state-controlled Global Times newspaper. The hashtag #UnitedForcesPassengerOffPlane was the top trending item on Sina Weibo, the equivalent of Twitter, with more than 270 million views. The man who was removed, David Dao, appeared to be of Asian descent.
Dao is receiving treatment in a Chicago hospital for his injuries, according to a statement from lawyers who said they represent him. Video posted to Facebook and Twitter showed him as he was dragged out of his seat and down the aisle of the plane after refusing to give up his seat.
United Overhaul
For Munoz, the timing of the worldwide outcry is, at the very least, extremely awkward and at worst a serious setback for his overhaul of United, which suffered for years as the industry laggard in both profitability and on-time performance. In an ironic touch, Munoz just last month was named "Communicator of the Year for 2017" by PRWeek. The public-relations industry publication said Munoz "has shown himself to be a smart, dedicated, and excellent leader who understands the value of communications."
In 2015, Munoz took over as CEO from Jeff Smisek, who was ousted amid a federal investigation into ties between the carrier and the former chairman of the Port Authority of New York & New Jersey. The next month, Munoz suffered a serious heart attack and underwent a transplant in early 2016. He bounced back only to face a proxy challenge from two hedge funds. United named a new chairman and agreed to add new board members approved by PAR Capital Management and Altimeter Capital Management.
Within months after the board tussle, Munoz had unveiled a $3.1 billion plan to cut costs and boost revenue, and he set the stage for labor peace for the first time since the 2010 merger with Continental Airlines that created the company. He also brought in new senior leadership including President Scott Kirby, who previously served in the same position at American Airlines Group Inc. This year, United's market value surpassed that of American, which generates more in annual sales.
'Some Credit'
The Monday incident comes two weeks after United drew social-media scorn for enforcing its employee dress code for those who fly as non-revenue passengers, such as relatives of employees. Two young girls flying from Denver were told to change their leggings before boarding. In response, the airline then took efforts to tell "our regular customers" that "leggings are welcome."
In his letter to United workers Monday night, the CEO said he stood behind employees and criticized the passenger for refusing to deplane. Sara Nelson, international president of the flight attendants union representing United, said the incident was the most severe customer backlash she'd seen in 20 years on the job and was "completely unacceptable." Still, employees were grateful to have a chief executive who "has their backs."
"When something like this happens and people have to go to work and have order in their workplace to keep everyone safe, it can be incredibly demoralizing," Nelson said. "Some credit needs to be given to him."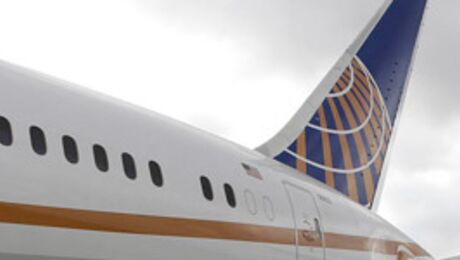 Read more: http://www.bloomberg.com/news/articles/2017-04-11/united-s-munoz-goes-from-savior-to-man-on-the-hot-seat-real-fast